Posts for tag: nutrition
By Ravenel Family Dentistry
December 09, 2020
When you were a kid, a plate of green beans or carrots probably seemed less appealing than a handful of cookies or a bowl of ice cream. Mom or dad telling you to "eat your vegetables" was the last thing you wanted to hear.
Hopefully, you've made friends with fresh fruits and vegetables as you've grown up. But even if you're just acquaintances, these foods are nonetheless essential to good health, particularly your teeth and gums. Among other things, they're packed with vitamins and minerals that help prevent tooth decay, gum disease or even oral cancer.
Here's a sampling of dental health-boosting micronutrients and the foods you'll find them in.
Vitamin C. Found in a variety of fruits and vegetables, vitamin C boosts the immune system to fight infections like tooth decay or gum disease. It's also an antioxidant that lowers your risk of cancer.
Calcium. This mineral obtained through dairy products, bony fish, greens and legumes, strengthens teeth and bones. It can also improve nerve and muscle function.
Vitamin D. This vitamin helps teeth absorb calcium to make them less prone to decay. You can find this essential vitamin in dairy foods, eggs, fatty fish or sunlight.
Phosphorus. Like calcium, phosphorus also strengthens teeth and bones. You'll find it plentiful in dairy and meats, especially seafood and poultry.
Magnesium. This mineral helps teeth and bones absorb other minerals and can also help with enzyme function needed to avoid disease. You'll find it in nuts, legumes, whole grains, dark leafy greens, seafood and chocolate.
If you don't think you're getting enough of these and other nutrients, you can obtain them through dietary supplements. But do be careful: The Food and Drug Administration (FDA) can remove harmful supplements from the market, but only after consumer use has provided evidence that they're unsafe. And, you won't be getting fiber or other elements found in regular foods that your body needs to be healthy and function properly.
Still, if you think you need to supplement a nutritional deficiency, speak first with your doctor or dentist about it and what you should take. If at all possible, though, eat your veggies—your teeth and gums, as well as the rest of your body, will be the healthier for it.
If you would like more information on nutrition's role in dental health, please contact us or schedule an appointment for a consultation. You can also learn more about this topic by reading the Dear Doctor magazine article "Vitamins & Dietary Supplements."
By Ravenel Family Dentistry
September 10, 2018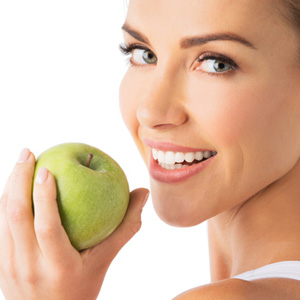 If you're brushing and flossing daily, as well as seeing your dentist at least every six months, you're doing the top things needed to maintain your dental health. But all your hygiene efforts could be undermined if you're not eating a dental-friendly diet. Simply put, there are foods that protect and promote dental health and those that increase your risk of dental disease.
Diets in the latter category are typically high in added sugar and low in natural food fiber. The largest sources of these are processed sugars from sugar cane or beets and high fructose corn syrup. With just a little knowledgeable label reading, you can find sugar and its various aliases added to thousands of processed food items including pastries, candies, sodas and energy drinks.
Heavy consumption of processed sugars also contributes to dental disease. Disease-causing bacteria thrive on sugar as a food source, which fuels both their growth and their production of oral acid. Elevated acid levels can dissolve the minerals in tooth enamel faster than saliva can keep up. Softened enamel opens the door to tooth decay, while increased bacterial growth can lead to periodontal (gum) disease.
A diet, however, low in added sugar and high in fiber can have the opposite effect. Although fresh fruits and vegetables contain natural sugars, they also have indigestible parts called fiber that slow the digestion of any sugars and allow the body to more efficiently process them.  With the higher quantity of vitamins and minerals found in unprocessed foods, the overall effect of this diet is a decrease in your risk for dental disease.
Speaking of dental-friendly foods, we should also give honorable mentions to certain dairy items like cheese and milk that stimulate saliva production and are rich in calcium needed for tooth strength. Another beneficial category is both black and green tea, which contain antioxidants to fight disease and fluoride to strengthen enamel.
Adopting a low-sugar/high-fiber diet can have a profound impact on your overall health. Over time, you'll also reap dental health rewards with stronger teeth and gums and a lower risk of tooth decay and gum disease.
If you would like more information on diet and oral health, please contact us or schedule an appointment for a consultation. You can also learn more about this topic by reading the Dear Doctor magazine article "Nutrition & Oral Health."
By Ravenel Family Dentistry
November 15, 2016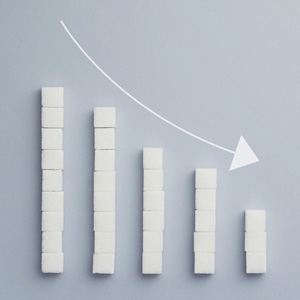 Tooth decay doesn't appear out of nowhere. It begins with bacteria, which produce acid that softens and erodes tooth enamel. Without adequate enamel protection, cavities can develop.
So, one of our prevention goals is to decrease populations of disease-causing bacteria. One way is to deprive them of carbohydrates, a prime food source, most notably refined sugar. That's why for decades dentists have instructed patients to limit their intake of sugar, especially between meal snacks.
Ironically, we're now consuming more rather than less sugar from a generation ago. The higher consumption impacts more than dental health — it's believed to be a contributing factor in many health problems, especially in children. Thirty years ago it was nearly impossible to find a child in the U.S. with type 2 diabetes: today, there are over 50,000 documented juvenile cases.
Cutting back isn't easy. For one thing, we're hard-wired for sweet-tasting foods. Our ancestors trusted such foods when there was limited food safety knowledge. Most of us today still have our "sweet tooth."
There's also another factor: the processed food industry. When food researchers concluded fats were a health hazard the government changed dietary guidelines. Food processors faced a problem because they used fats as a flavor enhancer. To restore flavor they began adding small amounts of sugar to foods like lunch meat, bread, tomato sauce and peanut butter. Today, three-quarters of the 600,000 available processed food items contain some form of added sugar.
Although difficult given your available supermarket choices, limiting your sugar intake to the recommended 6 teaspoons a day will reduce your risk for dental and some general diseases. There are things you can do: replace processed foods with more fresh fruits and vegetables; read food labels for sugar content to make better purchasing decisions; drink water for hydration rather than soda (which can contain two-thirds of your daily recommended sugar allowance), sports drinks or juices; and exercise regularly.
Keeping your sugar consumption under control will help you reduce the risk of tooth decay. You'll be helping your overall health too.
If you would like more information on the effect of sugar on health, please contact us or schedule an appointment for a consultation. You can also learn more about this topic by reading the Dear Doctor magazine article "The Bitter Truth about Sugar."