Posts for category: Uncategorized
By Ravenel Family Dentistry
May 18, 2019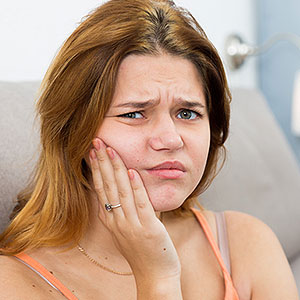 Losing a tooth can be traumatic, but a dental implant can dramatically turn that experience around. Providing functionality, life-like appearance and durability, implants stand out as the premier restoration for lost teeth.
For adults, that is. An older child or teenager with a missing tooth may need to wait a few more years for an implant. The reason: jaw development. A person's jaws, particular the upper jaw, continue to grow with most growth completed by early adulthood. Natural teeth with their periodontal attachments develop right alongside the jaw.
But because an implant attaches directly to the jawbone, its position is fixed: it won't change as the jaw grows and may gradually appear to sink below the gum line. That's why we wait to place an implant until most of jaw maturity has occurred after full jaw maturity. For females, we try to wait until 20 years of age and for males, usually 21 years of age. These are guidelines as some people mature faster and some slower, so a discussion with your dentist or surgeon is necessary to make an educated decision.
While we wait, we can install a temporary replacement for a child's or teenager's lost tooth, usually a partial denture or fixed modified ("Maryland") bridge. The latter affixes a prosthetic (false) tooth in the missing tooth space by attaching it to the back of natural teeth on either side with bonded dental material. It differs from a traditional bridge in that these supporting teeth aren't permanently altered and crowned to support the bridge.
During the time before implants we should understand that the area where the implant will be placed will undergo some bone deterioration, a common consequence of missing teeth. Forces generated as we chew travel through the teeth to stimulate renewing bone growth all along the jawbone. But with a lost tooth the chewing stimulation ceases at that part of the bone, slowing the growth rate and leading to gradual bone loss.
Fortunately, the titanium posts of dental implants stimulate bone growth as bone cells naturally grow and adhere to their surfaces. Before then, though, if the bone volume is diminished, we may need to graft bone material to stimulate bone growth that will enlarge the jaw bone enough for an implant to be placed.
It usually isn't a question of "if" but "when" we can provide your child with an implant for their missing tooth. In the meantime, we can prepare for that day with a temporary restoration.
If you would like more information on dental restorations for teenagers, please contact us or schedule an appointment for a consultation. You can also learn more about this topic by reading the Dear Doctor magazine article "Dental Implants for Teenagers."
By Ravenel Family Dentistry
April 30, 2017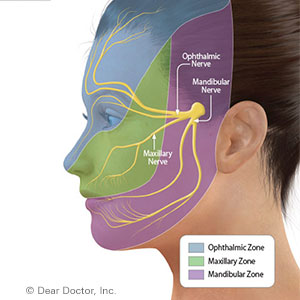 Life would be harrowing if we had no ability to feel pain. Although experiencing it is unpleasant, pain's purpose is to alert us to something wrong in our body. Without pain diseases and other problems could worsen to the point of life-threatening.
But pain without a purpose — the nerves simply misfiring — can make life miserable. This can happen with the trigeminal nerves that exit the brain stem and end on each side of the face. Each nerve has three branches that serve the upper, middle and lower parts of the face and jaw.
When they don't work properly, trigeminal nerves can give rise to a disorder known as trigeminal neuralgia. Beginning often as an occasional twinge, they may escalate to several seconds of mild to excruciating pain occurring over weeks, months or even years. An episode may erupt from chewing, speaking or even lightly touching of the face.
We see this condition most often in people over fifty, particularly women. We don't know the exact cause, but there's strong suspicion that the nerve's protective sheath has been damaged, similar to what occurs with multiple sclerosis or other inflammatory conditions. Another possibility is a blood vessel putting pressure on the nerve and disrupting its normal operation. Such an impinged nerve might transmit pain signals at the slightest stimulation and then fail to "switch off" when the stimulation stops.
Although we can't cure trigeminal neuralgia, we can help you manage it and reduce discomfort during episodes. We'll first try conservative, less-invasive techniques, like signal-blocking medications or drugs that reduce abnormal firing.
If these aren't effective, we may then recommend a surgical solution. One such procedure is known as percutaneous treatment in which we insert a thin needle to selectively damage nerve fibers to prevent their firing. If we've determined an artery or vein has compressed the nerve, we might surgically relocate the vessel. These techniques can be quite effective but they do have possible side effects like numbness or hearing loss.
If you've experienced facial pain, don't continue to suffer. Visit us for a complete examination and learn about your options for pain relief. More than likely, there's a way to reduce your pain and improve your quality of life.
If you would like more information on facial pain, please contact us or schedule an appointment for a consultation. You can also learn more about this topic by reading the Dear Doctor magazine article "Trigeminal Neuralgia."